Personalized care, designed for you
Compassionate, patient-centered care is at the core of everything we do. The deep, personal connections our clinicians build, along with predictive data and advanced technologies, help us develop personalized care plans that help each patient reach their individual care goals.
Extraordinary care at home
Our highly skilled home health and hospice clinicians offer superior physical care and compassionate emotional support for patients and their loved ones at home. By providing care where they're most comfortable, patients can confidently achieve their health care goals.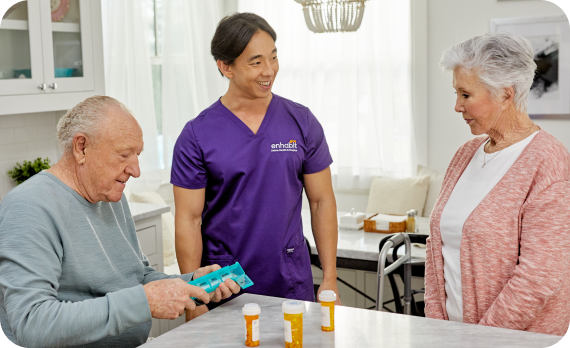 About home health
Home health gives patients the opportunity to get the care they want and deserve in the comfort of their own homes. Whether you're recovering from recent surgery or managing a chronic illness or injury, our clinicians and caregivers can help you achieve your health care goals.
Frequently asked questions
Is home health right for me?
For many seeking to recover from illness or surgery, and for some who want to prevent decline and continue to age in place, home health can be the best decision. You or your loved one can receive physician-supervised and patient-centered care, avoid unnecessary inpatient or facility-based care and increase your overall health and well-being in the comfort of your own home.
How can I pay for home health services?
Medicare covers most of your home health journey, like intermittent nursing care, rehabilitative services, medical social services and more. However, it does not cover 24-hour-a-day care, meal delivery, or custodial services. Most private insurance plans will cover care for a limited time. Learn more about what home health services Medicare covers here.
About hospice care
Hospice is a philosophy of care that places importance on the comfort of every patient living with a terminal illness. Our coordinated team of caring professionals is dedicated to providing physical, spiritual and emotional support to patients and their loved ones. 
Frequently asked questions
Is hospice care right for me?
If you or a loved one has been diagnosed with a terminal illness and wish to receive care at home, hospice could be the right choice for you. We recommend discussing this option with your physician.
How can I pay for hospice care services?
Hospice care is most commonly paid for by the Medicare hospice benefit. There is no co-pay or out-of-pocket cost for qualified Medicare beneficiaries. Medicaid and many private insurance companies also pay hospice benefits with minimal personal costs. Learn more about what hospice services Medicare covers here.
Is home care right for you or your loved one? 
Home health and hospice could be the right decision for you. To find out, click on the assessments below and then discuss your options with your physician. 
Home health care readiness assessment
By providing high-quality medical care, rehabilitation services, patient education and medical social services, the home health team is focused on meeting all the needs in your plan of care. Learn more about whether you or your loved one could benefit from in-home medical care.
Take the assessment
Misconceptions about hospice care
Many of our patients and their loved ones tell us that they wish they had started hospice care earlier. Having a better understanding of the hospice journey will help you make the decision that is best for you and your family.
Check your hospice knowledge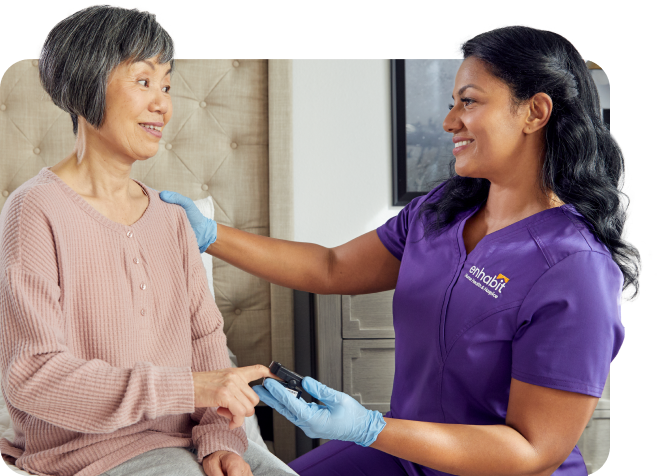 Quality care on your terms
No matter where you call home, our clinicians will be there to offer the personalized home health and hospice care you deserve. Whether you require basic or specialized care, our team has the experience to deliver high-quality, compassionate care that will help you achieve your individual goals.
Our services
Find us nationwide
We have 363 locations in 34 states across the country.
Start your home health journey
Helping our patients achieve their recovery goals is our number-one priority. And we'll be there to guide you through every step of your home health and hospice journey, ensuring you get the right care at the right time. Learn more about our services and our approach below.
What to expect
Recovering at home
Home health care allows patients to recover from surgery in the comfort of their own home. Learn how Enhabit helps reduce hospital readmissions and guides patients to their recovery goals using personalized care plans.
Learn more
Seamless care transitions
Our experienced clinicians turn patient homes into high-functioning care settings, ensuring the transition from the hospital is as smooth as possible. Our goal is to help every patient feel supported and confident throughout their health care journey.
Get the support you deserve
Having the right information lets you confidently make the best health care choices for yourself or your loved one. We have an extensive resource library full of articles and blogs that can help you make these important decisions.
Explore our resources
What our patients and their loved ones are saying
"Enhabit literally saved my life. All the staff were amazing and helped me get back on my feet and feel safe enough to live alone again."
Home health patient
"I had so many fears when my loved one was dying, but I had wonderful care from the hospice workers. They explained and comforted me and my loved one if there was anything we didn't understand. Enhabit helped us to see and feel joy in the last few days."
Loved one of hospice patient
"I cannot express enough how helpful and wonderful each and every individual was on my home health care team. I was always greeted with a smile and a positive attitude. I could tell everyone communicated with one another about my care and progress. To summarize, all my care was outstanding! I can't think of anything I would change or do differently."
Home health patient
"The Enhabit team made our profound time less confusing. We were prepared for the end of life that our beloved had to go through. When we think of the caring people that helped us, we are reminded of the best human beings surrounding us and how the world is a better place with them around."
Loved one of hospice patient
"Your staff is beyond outstanding to the person. All were knowledgeable, caring and honestly concerned about my well-being. They had great personalities. It was blatantly obvious that they cared personally about my condition, advancement and overall well-being. Truly awesome!"
Home health patient